Our current auction features a stunning copy of the world's most famous concert poster, the FD-26 Skeleton and Roses. As if by chance, the original illustration art that inspired Mouse and Kelley is highlighted in a Rolling Stone article posted on March 4th! The article discusses the original art from which the poster was created, "A Skeleton Amid Roses" by Edmund Joseph Sullivan, and its appearance at the Outsider Art Fair at the Metropolitan House in New York. This was the first time the artwork was displayed for public viewing in over thirty years, as long as it has been under the good care of poster historian and collector Jacaeber Kastor.
"A Skeleton Amid Roses" originally appeared in the 1913 edition of The Rubaiyat of Omar Khayyam. In 1966, it was discovered by artists Stanley Mouse and Alton Kelley who immediately thought it was the perfect image to associate with the Grateful Dead. The duo recreated it on a poster advertising the Dead's September 16th, 1966 appearance at the Avalon Ballroom in San Francisco, and thus, the FD-26 was born. Since then, the poster has gone on to be one of the most sought-after collectible pieces of rock and roll artwork of all time.
Serious poster collectors, regardless of their musical taste, understand this is a must-have item. The artwork alone is immediately recognizable and will endure the test of time. The trajectory of past auction sales of this poster clearly illustrates its potential. When PAE was founded in 2007, strong copies of the FD-26 could be bought for under $10,000. Psychedelic Art Exchange sold the first copy to break the $50,000 mark at auction in 2018. Following that sale, Heritage auctions broke the $100,000 mark for a 9.8 in their auction. In a market that is still considered niche, this is the poster that has paved the way to respectable value. With nearly daily headlines reporting record-setting values in collectibles across the board, the future is bright for our humble concert posters.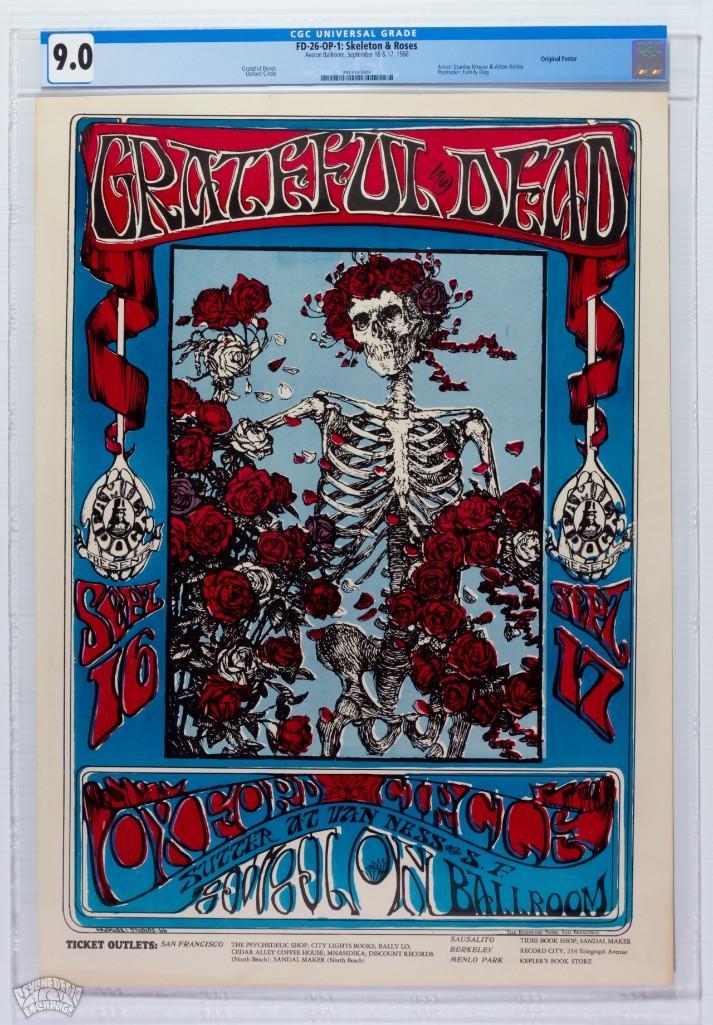 We are pleased to be offering a beautiful example of the FD-26 in our current March CGC Auction! Having received a 9.0 grade from CGC, this print is in the top 67% of graded copies according to the data that is available to us. We are excited to be able to put another copy of the FD-26 into the hands of a lucky collector. Bid wisely!
Our March CGC Poster Auction will end on Sunday, March 13th. Lots will begin to close at 9:00 pm eastern time! Register with LiveAuctioneers to bid.