Our February Mega Sale is full of unique and exciting items! Mega sales at PAE are fun treasure hunts. These sales give us the ability to feature items from many different eras, from tons of unique venues, and for more bands and artists than you can imagine. Our current sale contains items from multiple unique categories that present special opportunities to collectors. Here are some items and categories we think are worthy of your attention!
1. Poster Spotlight: 1969 The Who Boston Tea Party Special Edition Mounted Poster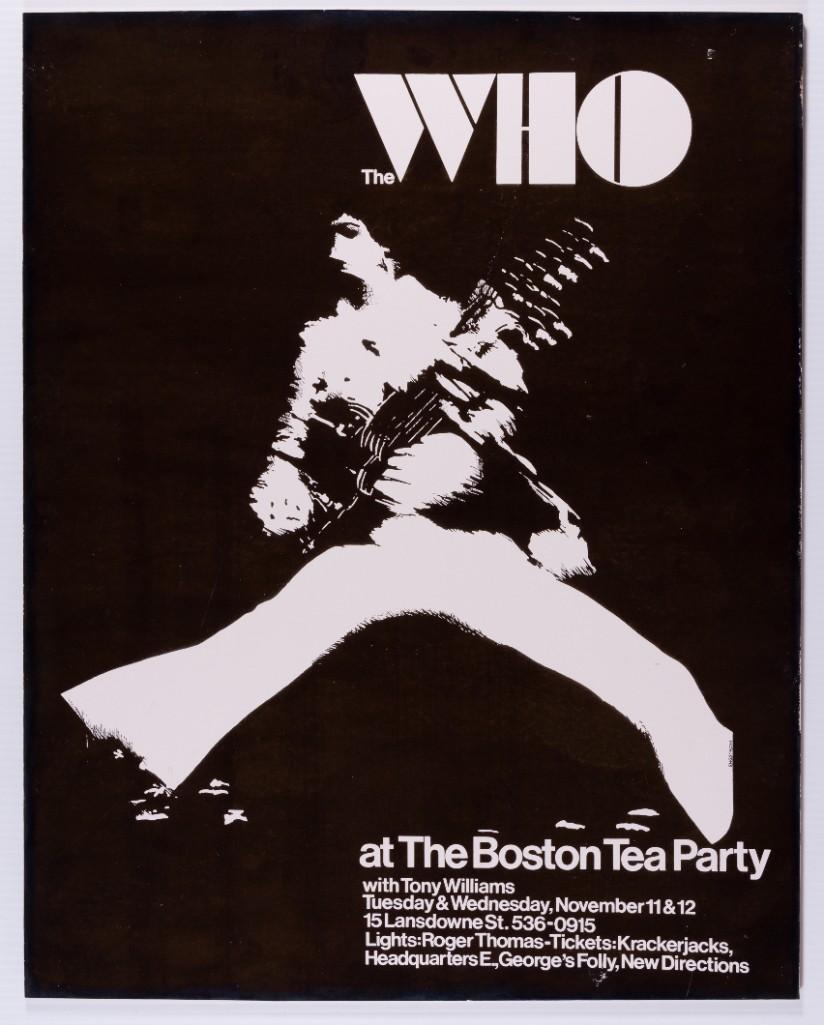 We can't discuss this auction without talking about lot #1! This poster is a truly scarce item from the estate of renowned Boston area disc jockey Charles Laquidara, whose show "The Big Mattress" was broadcast on WZLX from 1969-1996. The original Who Boston Tea Party poster is one of the most prized posters of the 1960s concert poster genre. The primary poster grading company, CGC catalogs the poster as AOR 3.172 (Art of Rock Plate 3.172). The image is of The Who's Pete Townsend in stunning black and white. The illustration captures the guitar hero frozen in his signature mid-air leap.
The Boston Tea Party venue is one of those pockets of poster collecting that frustrate collectors and dealers alike. The print runs were minuscule so the survival rates are painfully low. The hottest pieces were absorbed into top collections decades ago and rarely come up for sale! If not for the ironclad provenance from the seller, PAE would have viewed this poster as some type of pirate printing, but the attached letter from Charles Laquidara was indisputable proof of its authenticity. Still in order to provide our PAE Lifetime Guarantee of Authenticity, we needed to establish that this was an original print.
This is an AMAZING poster. Be sure to check out the full lot description for more of the story behind it and how it came to be in our hands!
2. Category: Original Art
Original art presents one of the most exciting opportunities in collectibles, giving you the chance to own an item that is the ONLY one of its kind! Pieces like this are incredibly rare and valuable, as they are generally traded privately and seldom come up for public offering. There are several pieces of original art that appear in our current mega sale for you to bid on! These include original sketches by poster masters Rick Griffin and Stanley Mouse, original poster art by Randy Tuten, and more. Don't miss your chance to get your hands on an item that will likely not become available in our auction ever again!
3. Category: Cardboard Posters
Cardboard posters generally stir up excitement among collectors, as they are most often associated with the older, pre-psychedelic boxing-style concert posters from the 1950s and early 1960s. However, posters have been printed on throughout various eras. We are pleased to offer a wide variety of concert posters printed on cardboard in this sale that were printed between 1954 and 1988! Artists including Frank Zappa, Dolly Parton, James Brown, Johnny Cash, Jefferson Airplane, and more are represented in cardboard for the bidding.
4. Category: Modern Posters
Another thing we love about our Mega Sales is that they allow us to present to you a variety of collectible modern concert posters! While most vintage posters were created as advertisements, modern posters are more often created for merchandising purposes. They are often printed in small quantities, numbered, and signed by the artist! Many modern posters are stunning screenprints, created by some of today's most talented artists. These are worthwhile additions to any poster collection!
Our February Mega Sale ends on Sunday, February 27th. Lots begin to close at 9:00 pm eastern time.
Click here to enter!