Our January Mega Sale is in full swing here at PAE! As always, our Mega auction is the showcase for the entire spectrum of rock and roll paper collectibles, original art and related ephemera. The material offered spans multiple decades and covers a wide swath of musical genres! Here are a few items that we're really excited about and think you should keep your eyes on.
1. 1969 AOR-3.1 Woodstock Fest Original Large Poster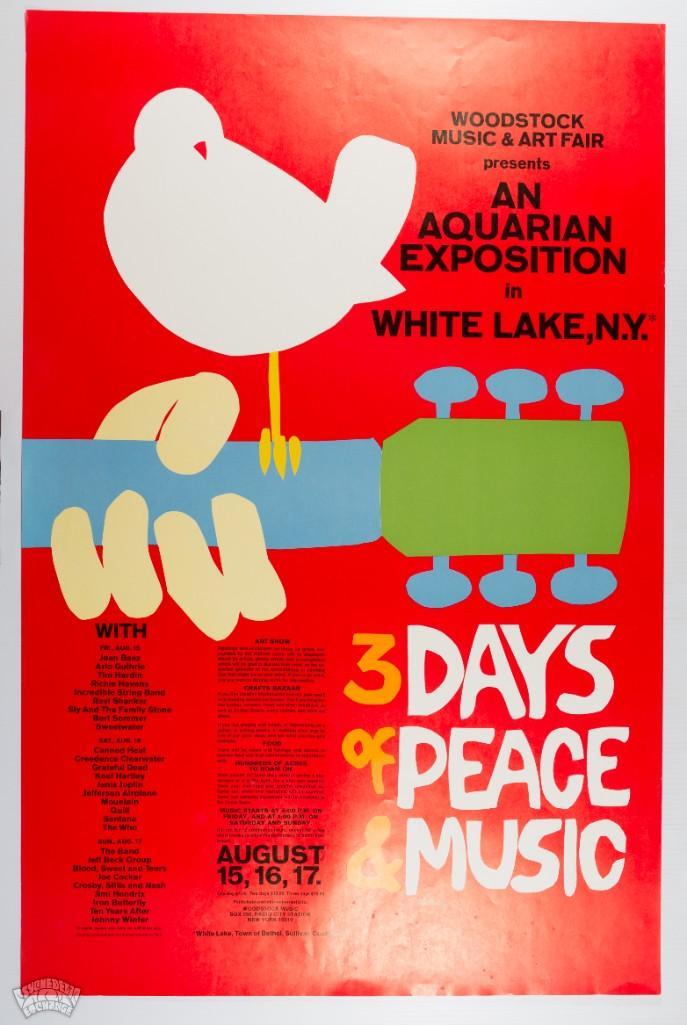 This classic original printing poster was produced in two different sizes. This is the highly coveted LARGE version!

The Woodstock Music and Arts Festival is legendary. It represented the peak of the 1960's music scene. In many ways, it also signified the end of the era. The poster for the event is iconic and deserves a place in every collection! The Original First Printing of this issue, like this one here, can be easily identified by a small piece of red extending from the second arch inside the white area of the letter "M" in Music.
This poster would be considered mandatory in any well-rounded poster collection. Additionally, this copy is in as sharp condition as can be found today!
2. 1969 Orange Sunshine Card Signed Tim Scully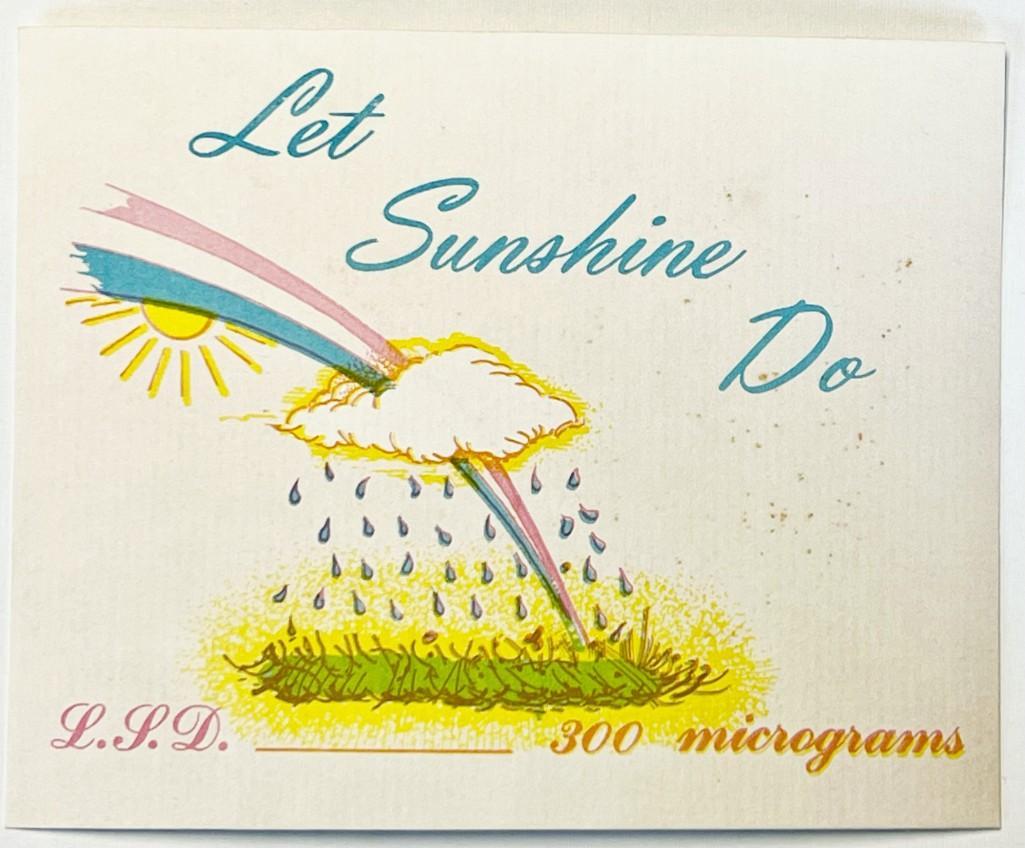 PAE is excited to offer a genuine artifact from the history of psychedelic pharmacology, an original Orange Sunshine Delivery Card signed by "Sunshine Maker", Tim Scully. Tim was not originally a well known public figure like Ken Kesey or Tim Leary, However with his lab partner Nick Sand, the pair quietly produced hundreds of million doses of LSD with the idealistic intent of changing the world.
This lot presents a real insiders opportunity to own a piece from the subgenre of psychedelic historic artifacts. For more information and the story behind the card, please check out the full lot description on LiveAuctioneers!
3. 1967 Buffalo Springfield Cubberley High School Poster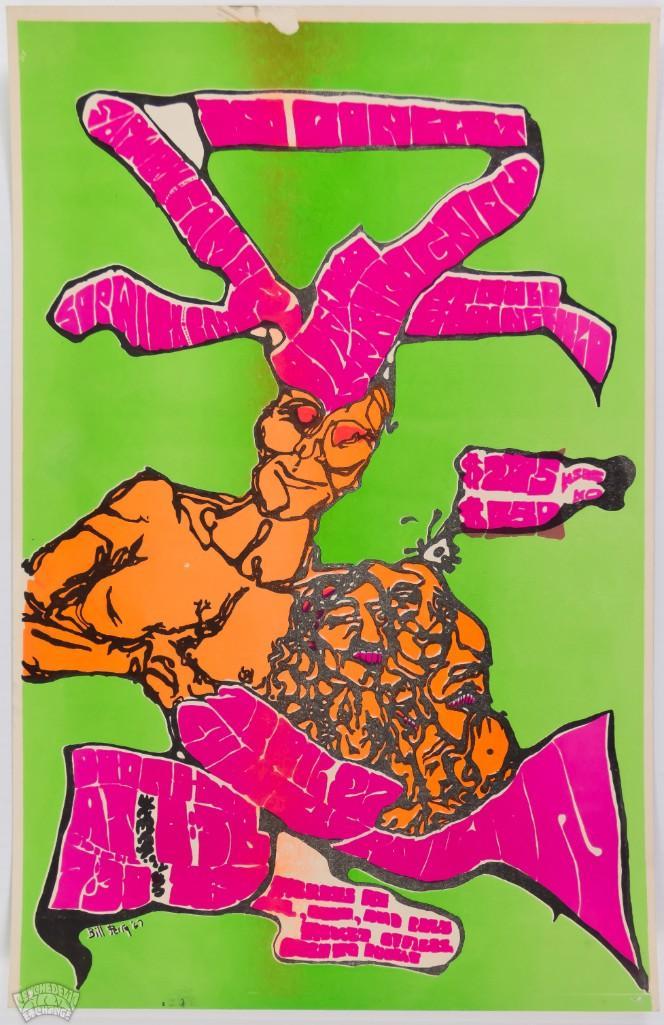 We are THRILLED to present this incredibly rare Bay Area treasure in our auction for the first time! This poster was created by artist Bill Perry for the performance of Buffalo Springfield and Sopwith Camel at Cubberley High School in Palo Alto. The event was held as the high school's Spring Concert, and the school banded together with two other high schools in the area in order to come up with the funds to afford Fillmore bands. The design exhibits the classic psychedelic poster style, complete with almost entirely illegible lettering, and is fascinating to behold. It is nearly impossible to locate copies of this piece, and it certainly won't appear again in our auction anytime soon.
For more history on this poster, check out this blog!
4. 2019 Dead & Co Summer Tour VIP EMEK Signed LE Poster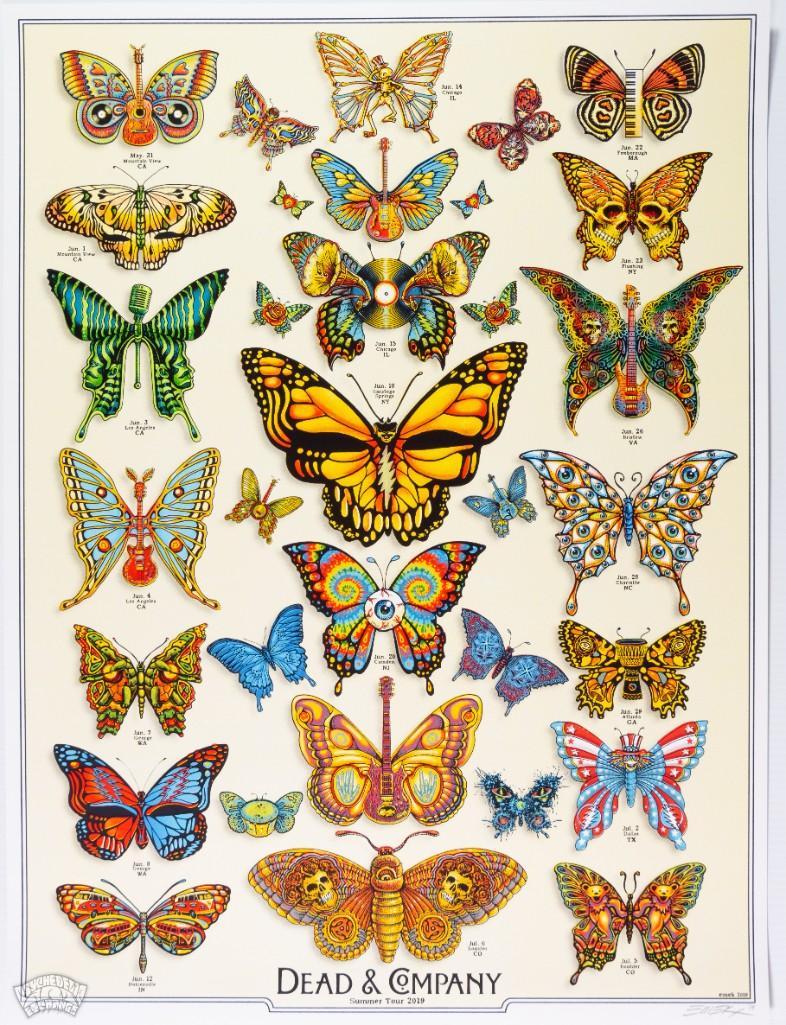 This is the VIP edition poster from Dead & Company's 2019 summer tour! This edition is 7039/9050. Emek designed this beautiful piece filled with numerous psychedelic butterflies featuring Dead related imagery. Each butterfly represents a different date on the tour. This poster is numbered 7039/9050 and signed by Emek!
5. Pieces of original art by Rick Griffin, Lee Conklin, Stanley Mouse, and Wavy Gravy
Original art is incredibly rare and valuable, as pieces like these are generally traded privately and seldom come up for public offering. We are thrilled to offer four pieces of original art from some of the greatest poster artists of all time! We have Rick Griffin's 1964 art for surf band The Challengers, an ink drawing from artist Lee Conklin, a pencil drawing created for Harley Davidson by famed artist Stanley Mouse, and a collage by counterculture figure Wavy Gravy all in one auction! Each of these represent an incredible, one-of-a-kind collecting opportunity.
6. 1982 Dead Kennedys Minor Threat The Barn Flyer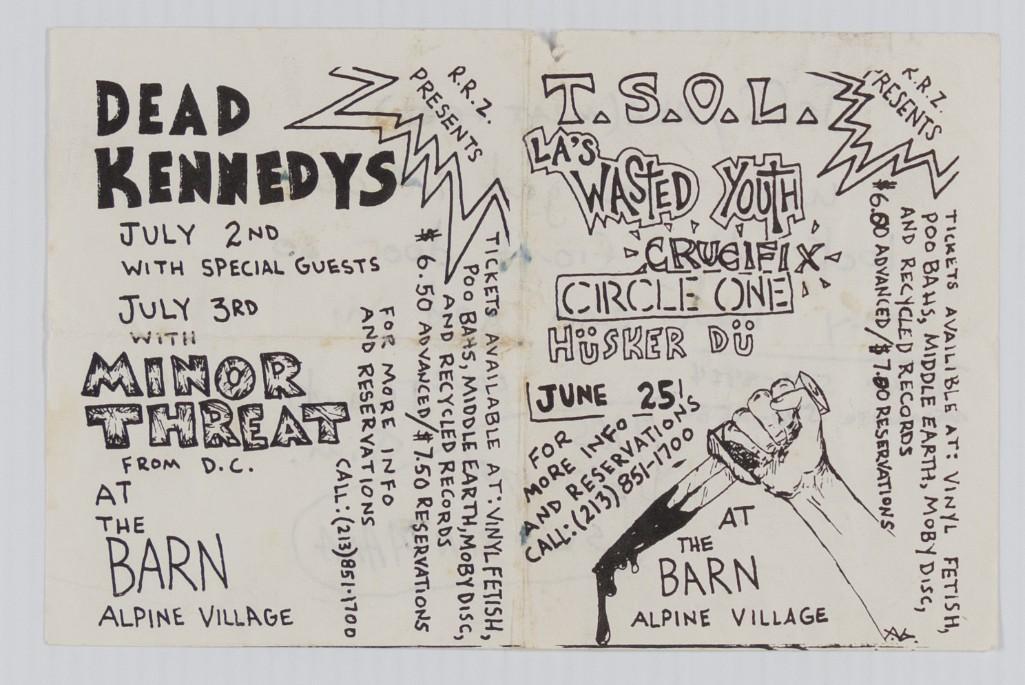 This unique punk flyer advertised 3 nights of music at The Barn, a venue in Los Angeles, in late June and early July of 1982. Many of the greatest of the 1980s punk and hardcore bands played these nights including Dead Kennedys, Minor Threat, T.S.O.L., Wasted Youth, Crucifix, and Hüsker Dü. The flyer appears to have been hand drawn and is right in line with how punk flyers in that era were stylized. The reverse has a handwritten note on it reading "Jeff, AKA Meat Feet, when you get in don't lock the front door so my dad can get in. Love thanks, Jim" along with some phone numbers and an address. Truly a one-of-a-kind item!
7. 1971 The Pointer Sisters The Boarding House Poster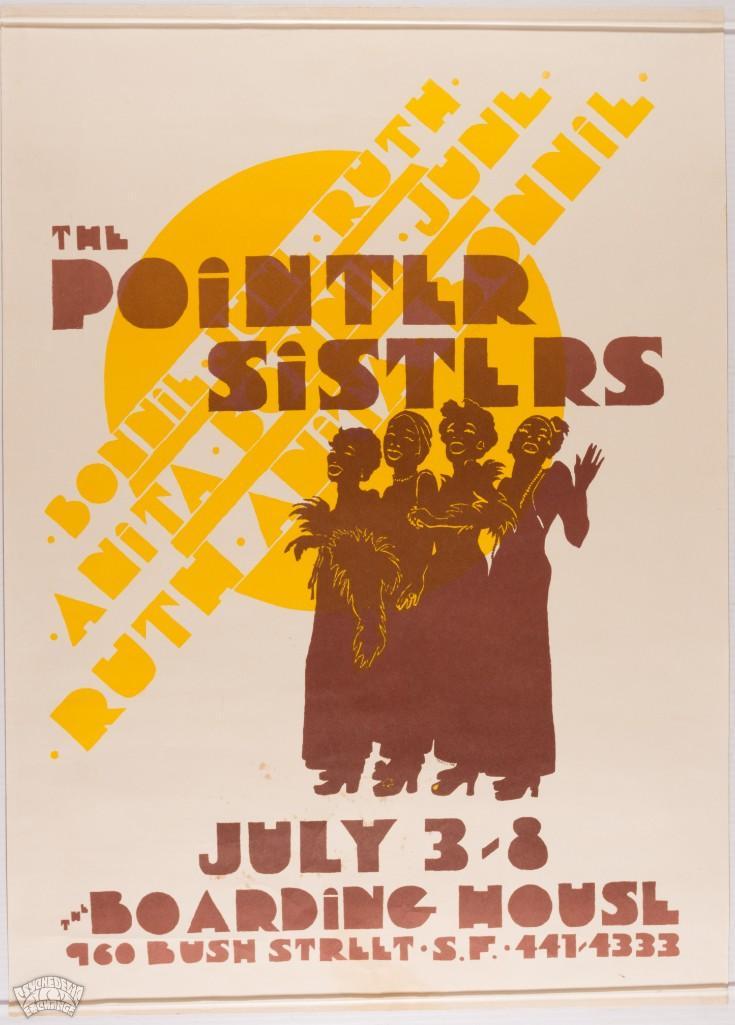 We are pleased to offer this early Pointer Sisters poster from July 1971 for the FIRST time in our auction! The classic R&B group, who had formed just the year prior, played 6 nights at the Boarding House in San Francisco. This was so early in the group's career that they had not yet become a household name. The Boarding House was a legendary venue that had just opened its doors that year. The venue hosted countless legendary comedians and musicians, may of whom launched their careers there. It closed its doors in the early 1980s. Extremely rare poster from an iconic venue!
8. 1977 KISS Love Gun Foil Promo Poster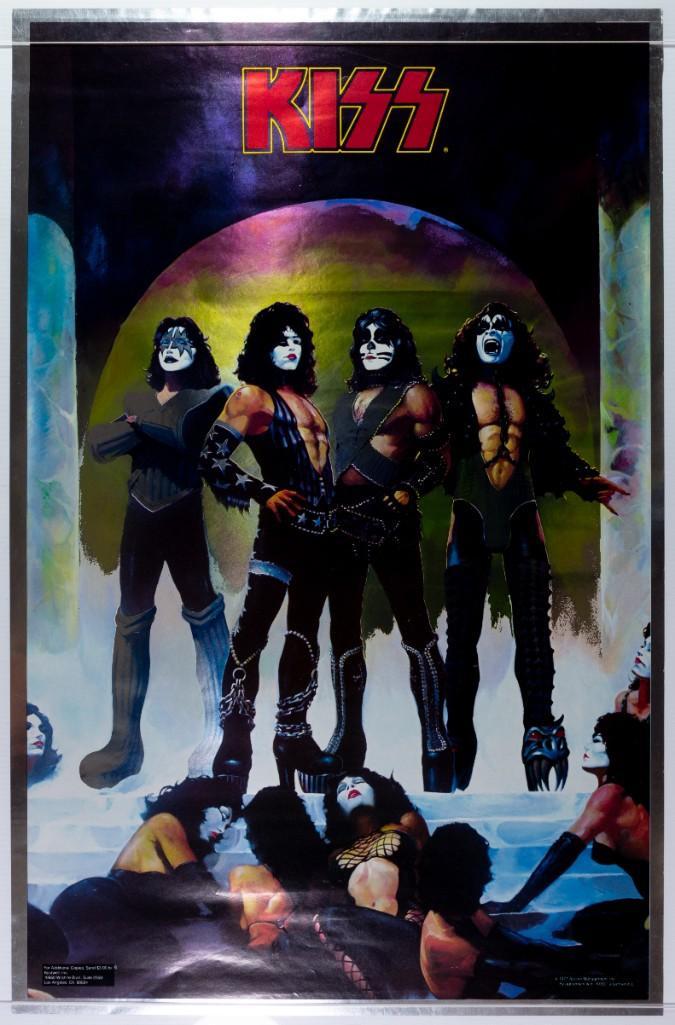 This large, foil promotional poster was designed for Kiss's sixth studio album, Love Gun! Love Gun was the band's first album to break the top 5 on the Billboard 200 chart. The classic image seen on this poster is the same one that appears on the album's cover. Kiss posters are widely popular and grow increasingly collectible as the years go by because they were so iconic in the world of arena rock-n-roll - not to mention their mega stardom status will never be forgotten. Condition details include some handling minor creases. 100% original with no restoration!
Lots in our January Mega Sale will begin to close on Sunday, January 30th at 9:00 pm eastern time. Make sure to take some time to scan the auction in its entirety, as there are tons of amazing, unique posters peppered throughout! Click here to enter, and don't forget to register with LiveAuctioneers to bid!