We are pleased to present another auction comprised of material consigned by lifelong collector, Houston Freeburg. Freeburg maintains one of the largest collections of vintage head shop and blacklight posters in the world. He has been collecting this material since the late 1960s, and could easily be named one of the greatest collectors of 1960s paper ephemera of all time.
Portions of Mr. Freeburg's stunning collection have been on display in multiple museums including the Toledo Museum of Art and Memphis Brooks Museum of Art. The 100 lots we are offering within this auction help tell the story of the 1960s counterculture movement from many different angles. This story is largely the reason we are able to do what we do here at Psychedelic Art Exchange!
In May 2021, we held our first auction featuring items from Freeburg's collection. The auction was wildly successful, and we couldn't wait to offer more of these beautiful and historical pieces to the collecting community. Many of these items are extremely rare and won't be seen again at auction anytime soon. Mr. Freeburg was kind enough to share with us a bit about his passion for these posters as well as which items he thinks collectors should pay special attention to!
For more information about Houston Freeburg's background and collection, check out our blog from last year's auction.
Please introduce your collection and talk a bit about the genre of headshop and blacklight posters.
My collection is not limited to the late 60s headshop/counterculture genre, but the early blacklight posters from 1967 to 1969 are what I was lured to early on, purchasing my first poster at the age of 13. This was when I decided poster collecting would be a fun and worthwhile opportunity for me. I was particularly enamored by the transition once the blacklight was activated. For this auction underway, I chose some of my favorites which offer extreme blacklight effervescence, some of which display a virtually new and exciting image one could hardly ever detect unlit (
lot 57
for example). However, as one can see from the images, a blacklight is often not necessary to perceive the beauty and profound messages found in all 100 lots.
Basically, my counterculture collection can be, for the most part, defined in three contents or "themes":
music, politics, and drugs
. Bidders will find an assortment of each in the current auction underway.
As for my other passions in the vintage poster world, one can also see a wide and diverse collection of over 2000 original pieces related to concert posters & handbills, early air travel, original Disney attraction silkscreens, movie posters & lobby cards, artists signed LPs, and more at
www.houstonfreeburgcollection.com
.
Why do you think collectors should pay attention to these posters?
I firmly believe that the vast majority of these posters represent an era when artwork and music virtually replaced violence to a significant extent, as in the opposition to the Vietnam war. I can only summarize the general message as "PEACE".
What are your favorite posters in the current auction and why?
The "Favorites" question is a tough one, but I'll say this. Consigning most of the Hendrix and all of the Peter Max posters was like snatching candy from the hands of an unforgiving, saber-toothed child. But I felt it was time that they move on to caring and passionate collectors who sincerely appreciate the message, history, and artwork, not to mention the huge potential for a lucrative investment in the years to come.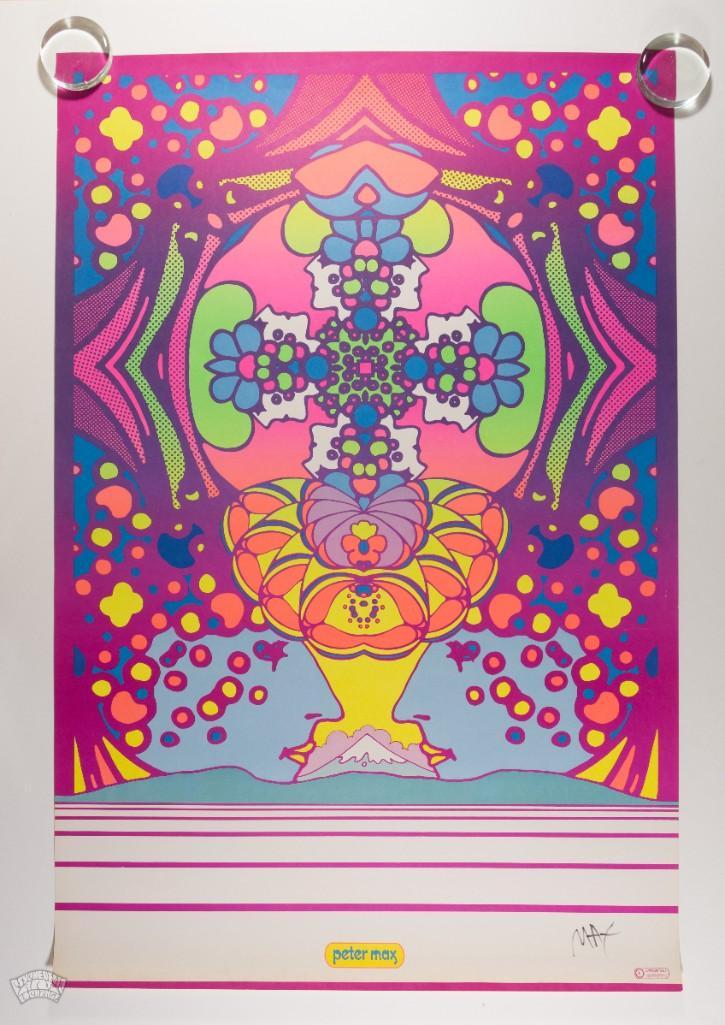 What posters do you think might be overlooked by bidders?
It's a bit early to say, but I would seriously recommend the collector, as an investor, grab up any of the Peter Max posters. His website has offerings of this particular series

starting

at $3515 per poster. As of this writing, Lots 24 and 25 have yet to obtain a single bid. I've seen them go on eBay for over $1200 with condition issues.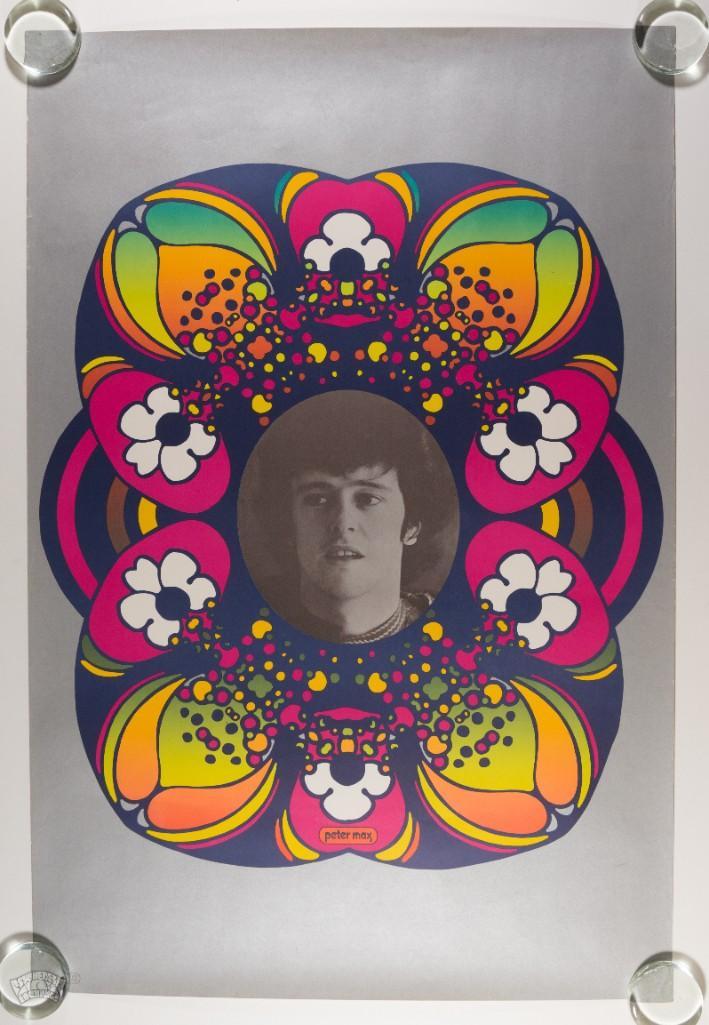 Also, four of my all time favorites are Hendrix posters. Lots
5,
6,
7,
&
17.
Lots 6 and 17 are not only especially rare (and gorgeous), but the last in my collection. Once again,
Lot 17 ("The Black Sun")
is one of my prize pieces, and has yet to get a bid! I
hate
to see them go, and respectfully dare anyone to find another one of each....anywhere!
And finally, ANY Pandoras are fantastic acquisitions and/or investments. Once you feel the quality and texture of the stock, coupled by the subject and artwork, you will know you won a winner! There are still some fabulous Pandoras that have yet to receive a single bid.
In closing, I would sincerely hope my comments above will help the serious collector realize the bargains available in this auction, with all bids starting at a measly buck. Happy bidding!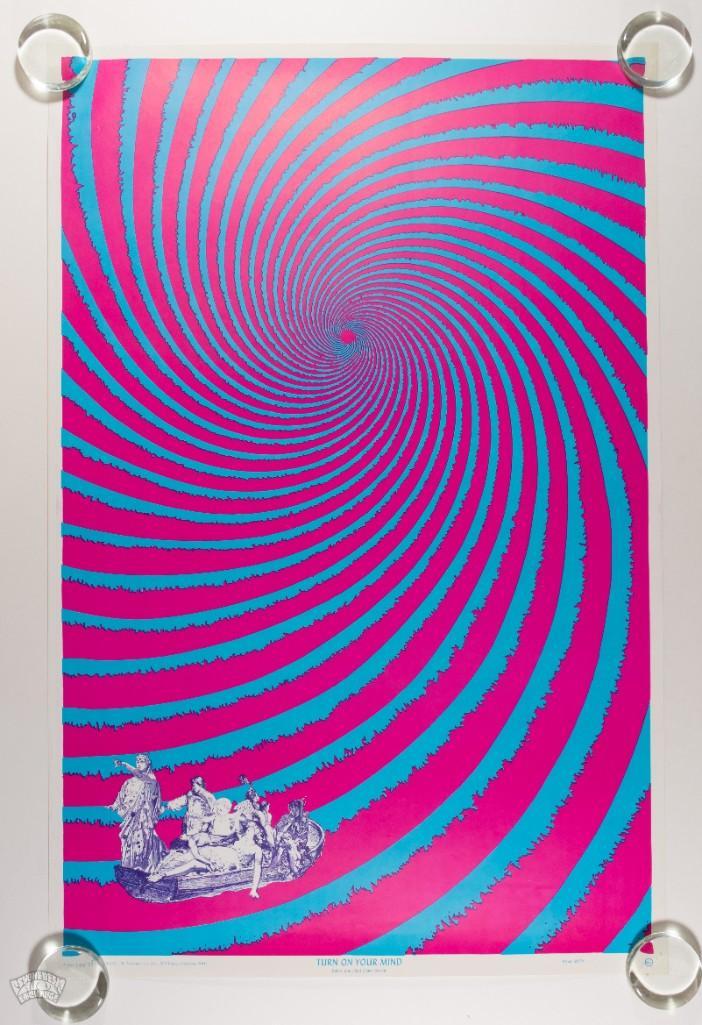 Our 160th auction titled 1960s Counterculture: An Exclusive Offering of Vintage Blacklight & Headshop Posters will end on Sunday, June 26th. Lots will begin to close at 9:00 pm eastern time. Be sure to register with
LiveAuctioneers
to place your bids!
Click here to enter.
Please note that many of the blacklight poster lots feature photos of the poster in normal light as well as under a blacklight. Be sure to click into each lot on LiveAuctioneers to see every photo!