Many new buyers at Psychedelic Art Exchange tend to gravitate towards the large and sexy posters from the San Francisco '60s. But, as their wall space fills, many collectors find their way to smaller paper items. Handbills and postcards present a wonderful opportunity to new collectors and veterans alike. They provide collectors with the same amazing decades-old artwork as the accompanying concert posters while being smaller and easier to store and frame, and are often obtainable for a far less hefty price tag. It is a well-known fact in the collectibles world that these smaller items are far easier to pirate than posters. This is just another reason why third-party certification and grading, such as that offered by CGC, is essential. The introduction of third-party authentication has greatly increased the confidence of buyers and collectors over the past few years.
We truly believe that handbills and postcards are the next wave in the world of third-party graded collectibles. This belief is confirmed when examining our recent sales data for some of the more desirable handbill and postcard titles. In October 2021, a 9.4 graded AOR-3.116 Hawaiian Aoxomoxoa original handbill sold for $3,250 in our auction. In May 2021, an FD-26 original handbill graded at a 9.8 sold for $6,600. We expect that these values will only continue to rise quite quickly.
It is our mission to provide the collecting community with the best selection of certified and graded concert posters, handbills, and postcards at auction each month. Here are a few exciting handbills and postcards to keep your eye on in our current CGC auction!
1. 1966 FD-26 Grateful Dead Skull & Roses Handbill Graded 9.4 SIGNED by Stanley Mouse!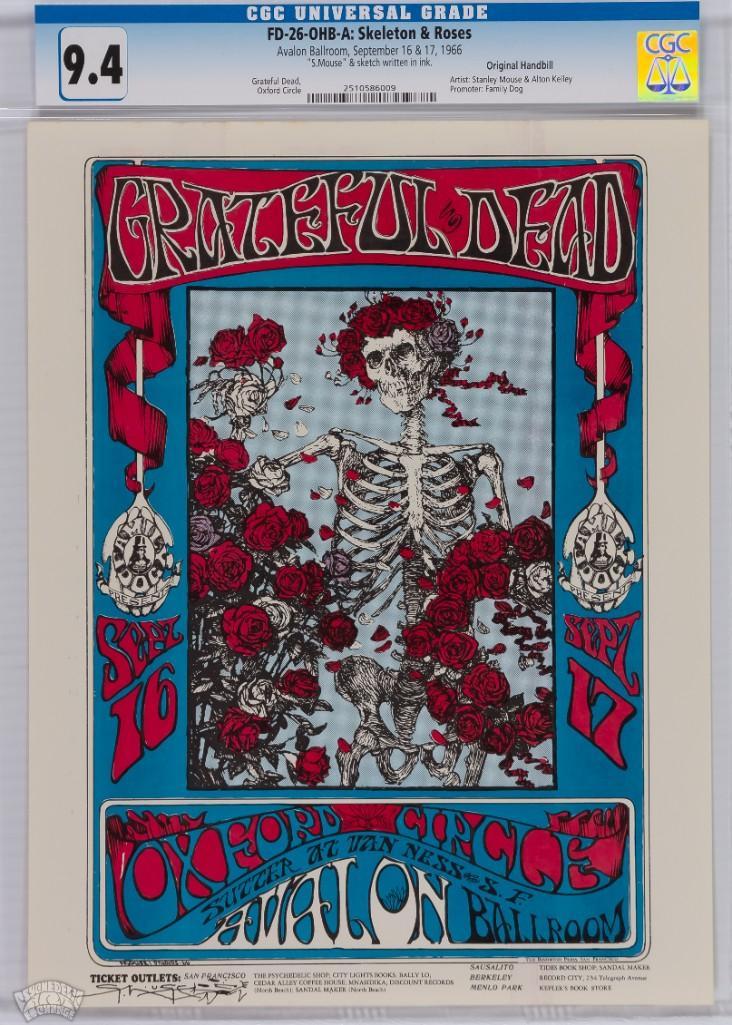 The FD-26 is one of the undeniable stars of the 1960s concert materials genre, and its place in history is well known. This classic Mouse/Kelley design has survived the test of time and is easily one of the most recognized images in all of Rock. Posters in this shape are worth tens of thousands. An Original First Printing of this poster sold two years ago for $118,750 in another public auction! This Skeleton & Roses Original Handbill offers you the opportunity to own the same famous art for far less!
2. 1967 AOR-2.215 Human Be-In Gathering of the Tribes Handbill Graded 5.0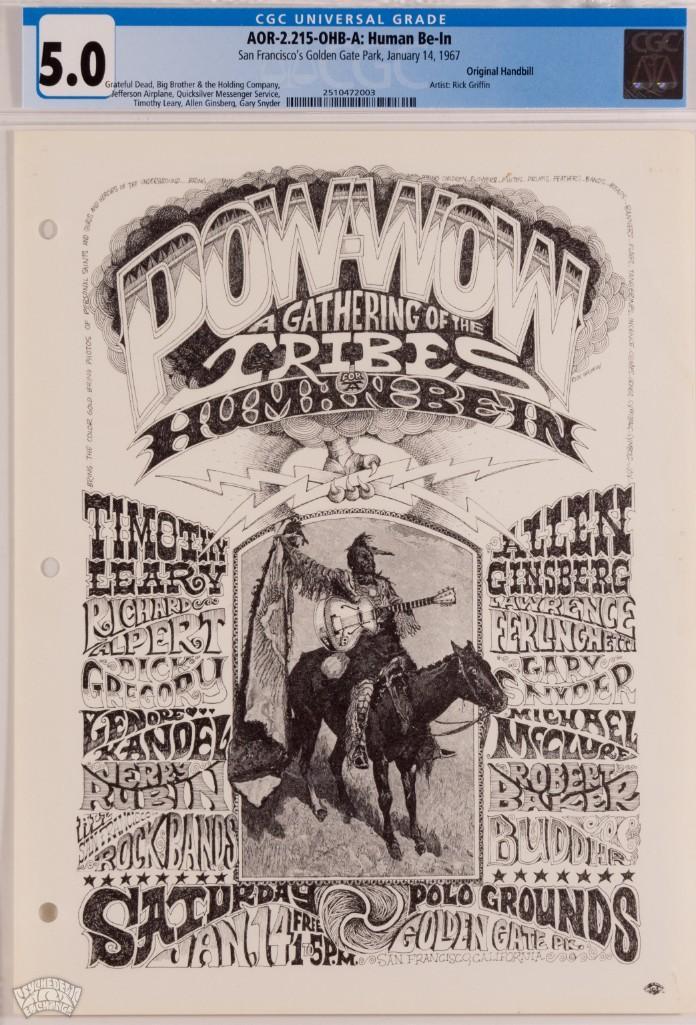 The Human Be-In kicked off the Summer of Love. It was originally conceived as an opportunity for the San Francisco Bohemians and Berkeley radicals to join forces in celebration of their respective counter culture ideals. Due to the unsurpassed historical significance of this image and the incredible Rick Griffin design, this handbill is considered one of the most important and desirable images ever created. The worldwide demand has always overwhelmed the tiny available supply! Last month, we sold a 9.8 graded example of this handbill for $2,000. This 5.0 graded example presents an incredible opportunity to own the amazing piece for far less.
3. 1965 AOR-1.101 Bob Dylan Joan Baez Tour Handbill Graded 8.5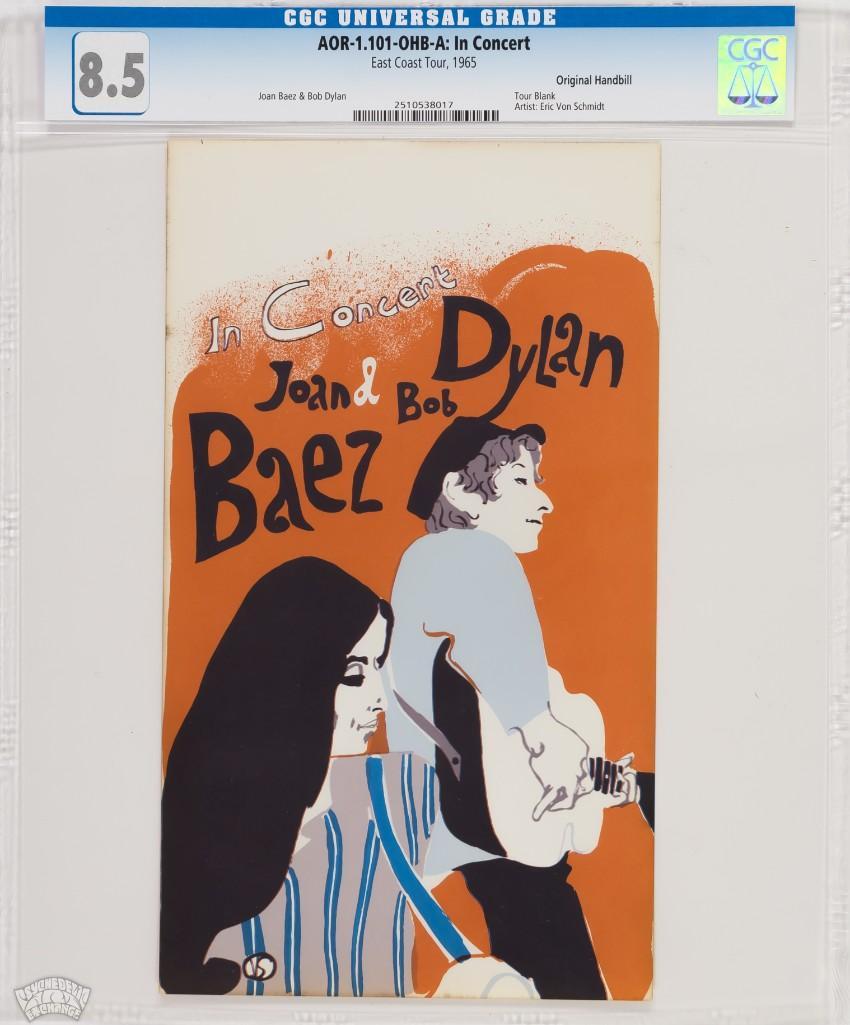 Here we are offering a very early original handbill for a Bob Dylan/ Joan Baez tour in 1965. According to The Art of Rock, Dylan wasn't thrilled with the image and it was only used on a very limited basis. This artwork is featured in The art of Rock, plate# 1.101. The Cambridge folk singer / visual artist Eric Von Schmidt created the design. Dylan & Von Schmidt had musical history: The year prior, Dylan visited Von Schmidt at his home in Florida and recorded several songs there, including an early version of "Mr. Tambourine Man". One of Von Schmidt's LP's is exhibited in a pile of records on the cover of Dylan's album "Bringing It All Back Home".
4. 1969 AOR-3.41 Led Zeppelin Handbill Artist Signed Graded 9.6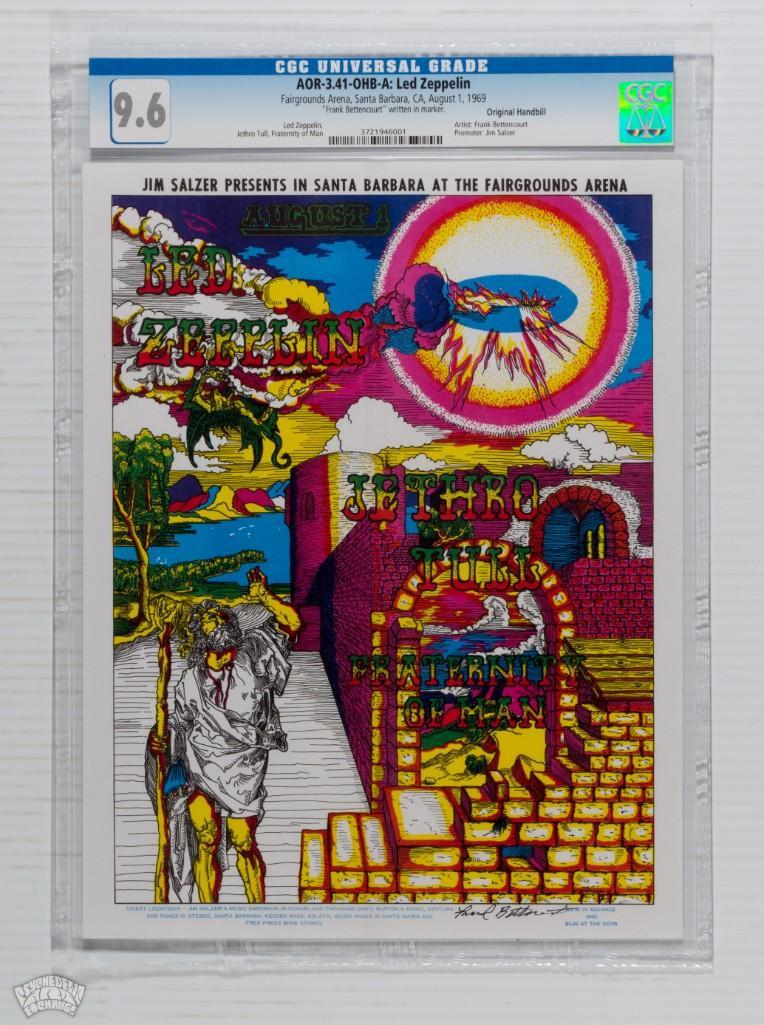 It's a pleasure to offer this Museum Quality, CGC graded original Led Zeppelin handbill to the collecting community! Because of their high status in the history of Rock and Roll, Led Zeppelin material demands some of the highest values of all. These highly desirable handbills have been illicitly reproduced for decades. Here is your chance to own one of the most popular Zeppelin handbills of all, SIGNED by the artist, Frank Bettencourt! Zeppelin's name is misspelled on this piece.
5. 1978 AOR-4.38 Grateful Dead NYE Blue Rose Handbill SIGNED by Stanley Mouse, Graded 9.6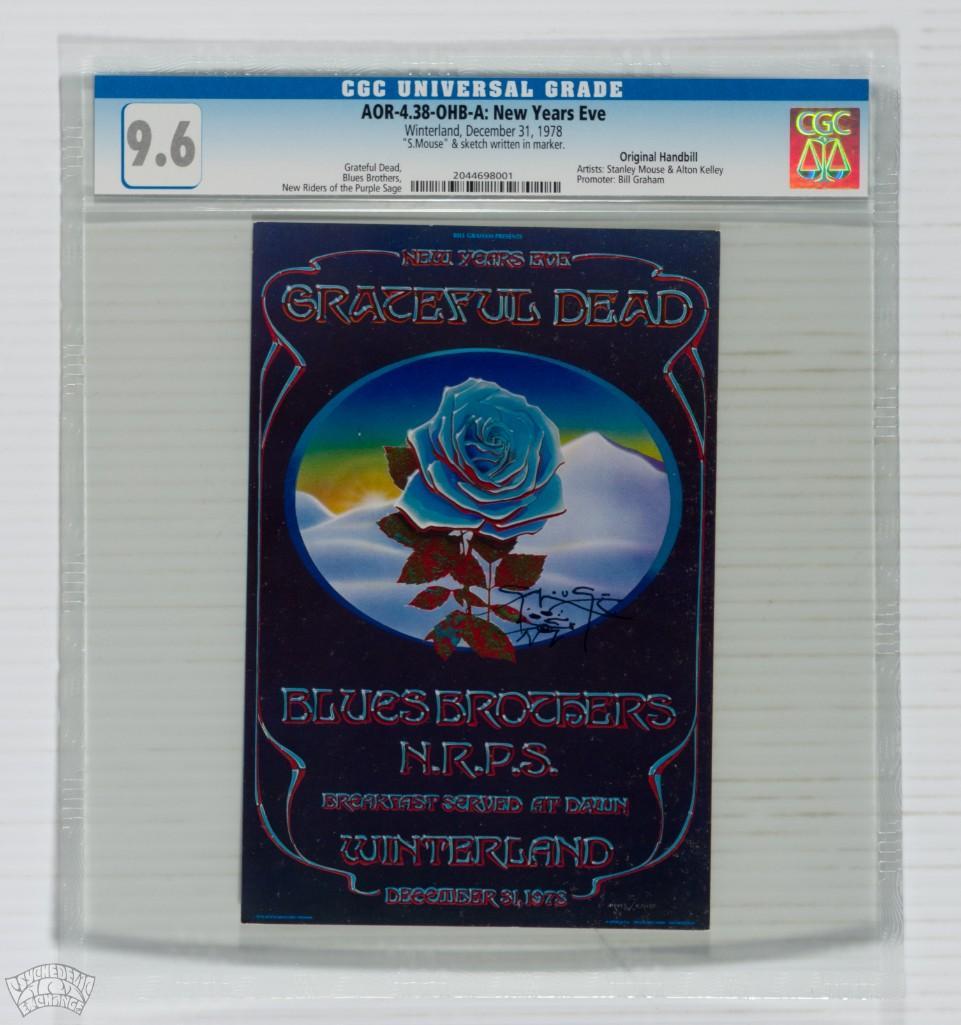 The final Grateful Dead concert at Winterland, which fell on New Years Eve 1978, is regarded as one of the Dead's finest performances of all at the historic venue. The popular design by Mouse and Kelley has also crossed into legendary status in the collectible marketplace time and time again. Here we are offering the doubled sided, Original Handbill for this performance in Museum Quality Condition! This is a chance to get an amazing piece or art for far less than the original poster commands.
The "Blue Rose" has always been considered amongst collectors as one of the "Blue Chip Collectibles" of this genre. Here's is a chance to own the best art from one of the best bands, BEAUTIFULLY SIGNED BY MOUSE!
6. 1970 AOR-4.120 Grateful Dead San Diego Hall Handbill Graded 7.0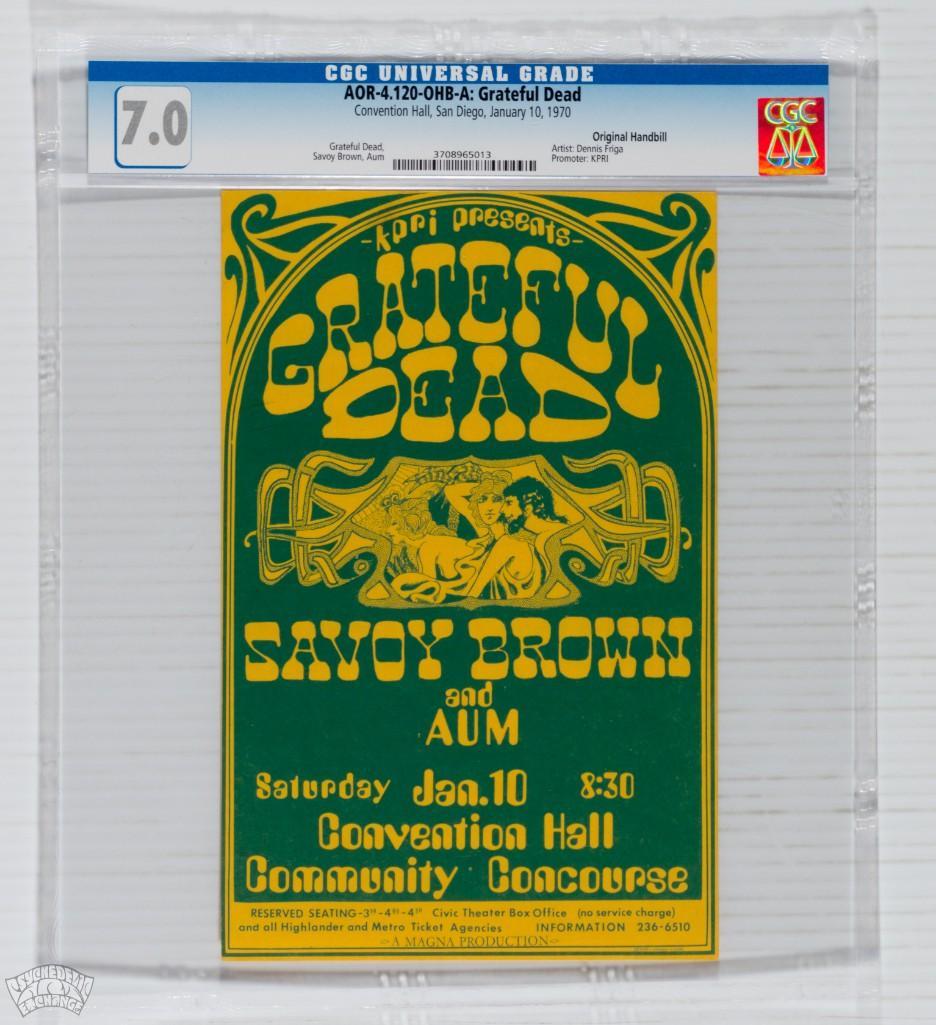 We are excited to offer this rare original handbill for the first time in our auction! Artist Dennis Friga created this design to advertise the Grateful Dead's appearance at Convention Hall in San Diego on January 10th, 1970. Savoy Brown and Aum played as support. This is an exciting opportunity for collectors!
7. 1969 BG-162 Grateful Dead Fillmore West Postcard Graded 10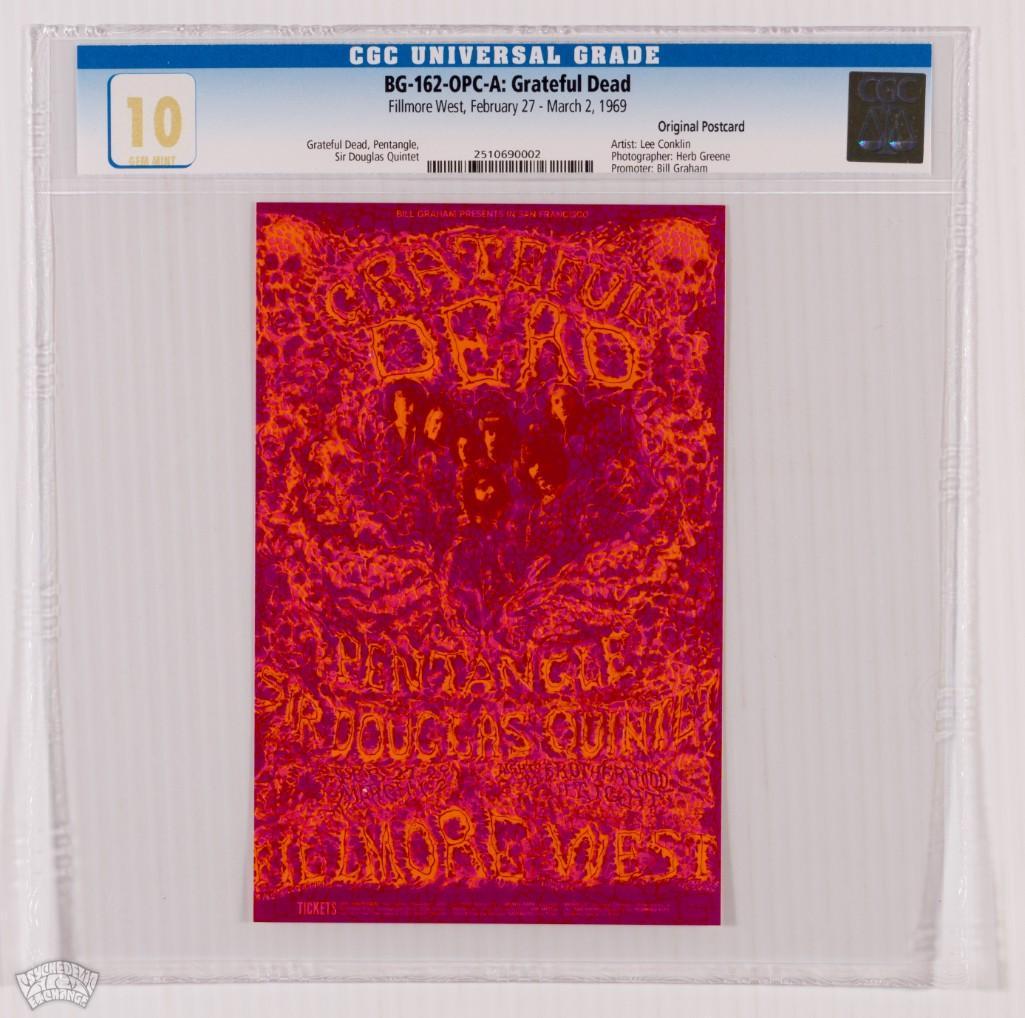 This Lee Conklin original postcard design is one of the more popular Grateful Dead images from the BG series. The colors are all fiery red and orange to create a look of the band in flames. Postcards such as this are in high demand now that CGC has created a wonderful way to collect and display them. This one has received a perfect 10 grade from CGC, presenting an EXCELLENT opportunity to collectors.
8. Incredible Collection of Original 1960s Grande Ballroom Postcards
The Grande Ballroom series produced some of the finest imagery from the 1960s music scene. In many cases promoter Russ Gibb chose to only produce postcards to promote events. That being the case, Grande cards and card sets have become one of the most highly sought after items by serious collectors. We are pleased to offer several of these cards in our current auction, including G/G-680216 The Byrds Graded 8.5, G/G-680426 Frank Zappa Graded 9.8, and G/G-680719 Spirit and James Gang Graded 9.2! These are just a few of the Grande cards we are offering, and we encourage you to browse the auction for more.
Our February CGC Sale will end on Saturday, 2/12. Lots will begin to close at 9:00 pm eastern time. Click here to enter the auction, and don't forget to register with LiveAuctioneers to bid!