The Dog Days already, Sirius-ly? Summertime is once again evaporating. It's now early August, which means that it is time to acknowledge the life of our favorite Leo, Chief Misfit, Acid Test Graduate, and Sainted Musical Tour Guide, Jerry Garcia. Jerry was born on August 1st, 1942; this year would have been his 80th birthday His death occurred on August 9th, 1995, just days after his 53rd birthday.
So much has already been written about Garcia's life by those more qualified than ourselves, but for the uninitiated, Jerry Garcia was a remarkably proficient musician whose journey took him to the epicenter of the cultural revolution ignited in San Francisco in 1965. He and his band, The Grateful Dead, became stewards of this culture and through their musical legacy, continue to be the torch bearers of that community to this day.
As that legacy applies to the poster collecting community, it's not an exaggeration to say that Grateful Dead posters have carried this hobby through to the present times. Along the way, Dead posters have set several high water marks in concert poster sales. Not only because of the intrinsic attributes that we report on relating to aesthetics, value, and historical importance, but also because the "Dead Scene" essentially created a collector's mentality. The same obsessive behavior that we learned stalking our favorite band is often now applied to poster collecting.
During the 30 years of the Grateful Dead's original run, their fans collected shows and recordings much the way we now collect this valuable paper. More importantly, though, Deadheads collected experiences, friendships, and stories. At the risk of sounding dramatic we believe that many subscribers to this blog have helped fill the void left by Jerry's exit with the excitement of concert poster collecting.
So with respect to that powerful connection, we are pleased to present some of the Jerry Garcia/Grateful Dead highlights in our current auction.
2017 Jerry Garcia "Autumn" Limited-Edition Signed Poster by Chuck Sperry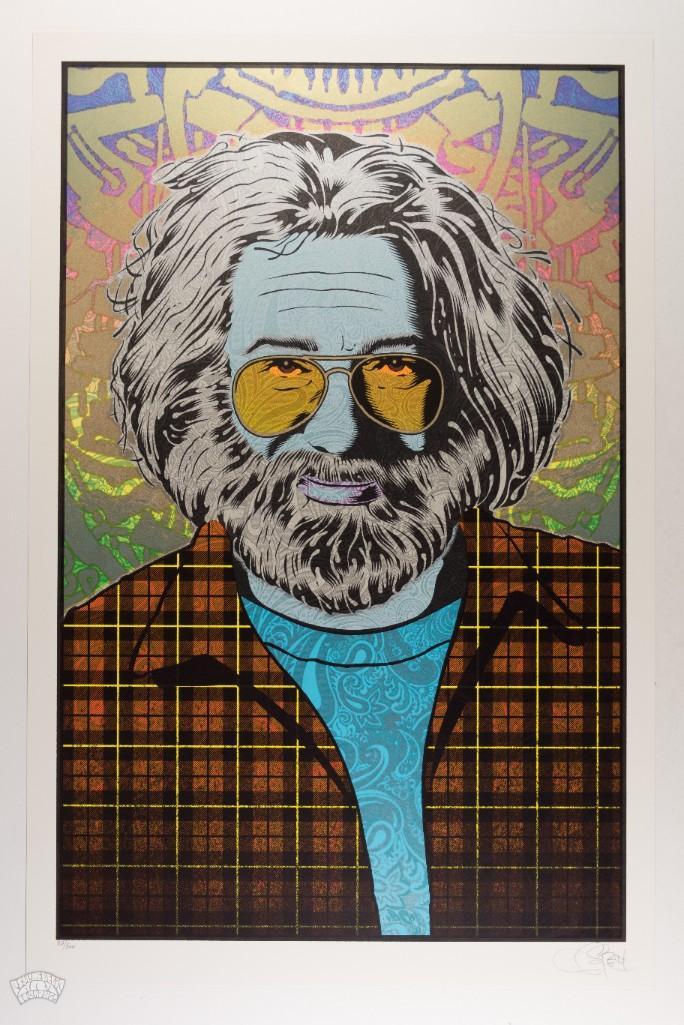 Contemporary Artist Chuck Sperry designed this LARGE Limited Edition poster in 2017 celebrating Jerry Garcia's life and legacy. This title called Autumn was part of a series of four screen-prints capturing Garcia through his life. They were officially available through the Jerry Garcia Estate several years ago when they were produced and sold out quickly. This poster is signed and numbered 25/500 in pencil by Chuck Sperry!
1995 Jerry Garcia Memorial Uncut Artist's Proof Signed Print by Alton Kelley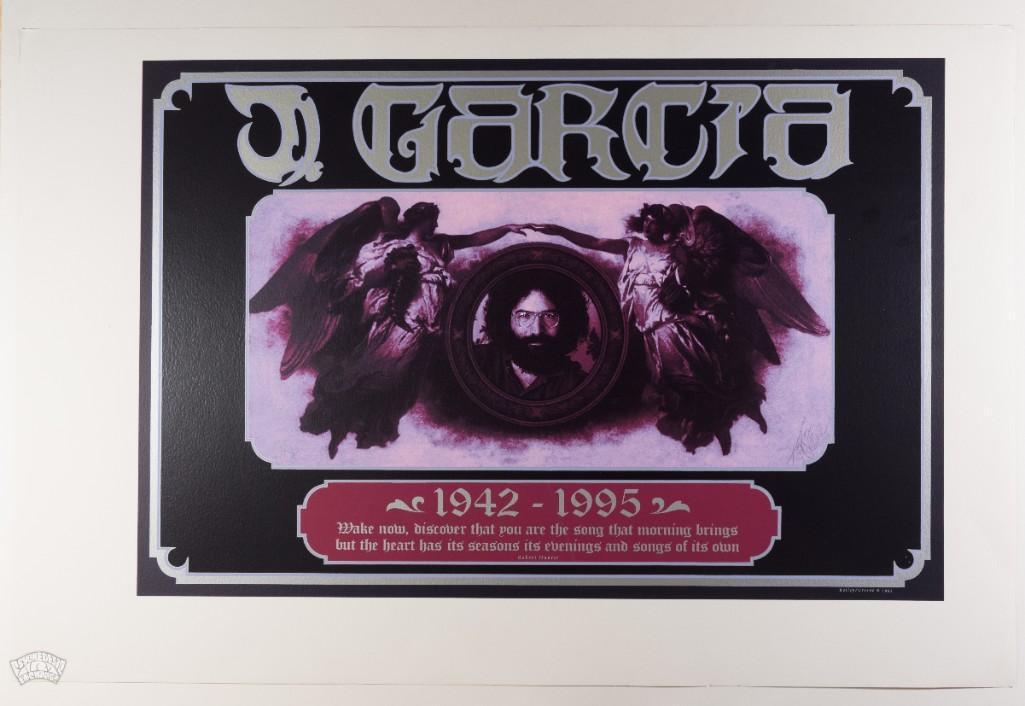 The death of Jerry Garcia was an event that deeply affected the faithful fans who revered this musical innovator and cultural icon. He left this world tragically on August 9, 1995 and left a hole that could never be filled. Fortunately, he left us with thousands of hours of his musical legacy and the memory of his unique American life. Among those who loved the guitarist was poster artist Alton Kelley. Kelley created this incredibly beautiful memorial as a lasting tribute to the favorite son of the San Francisco Psychedelic scene. The central image is a classic Garcia image by Herb Green surrounded by other angels. The quote below is from the Garcia/Hunter tune Eyes of The World. This limited-edition uncut Artist's Proof poster is numbered 4/5 and signed by Alton Kelley!
1966 AOR-2.16 Grateful Dead Avalon Ballroom Poster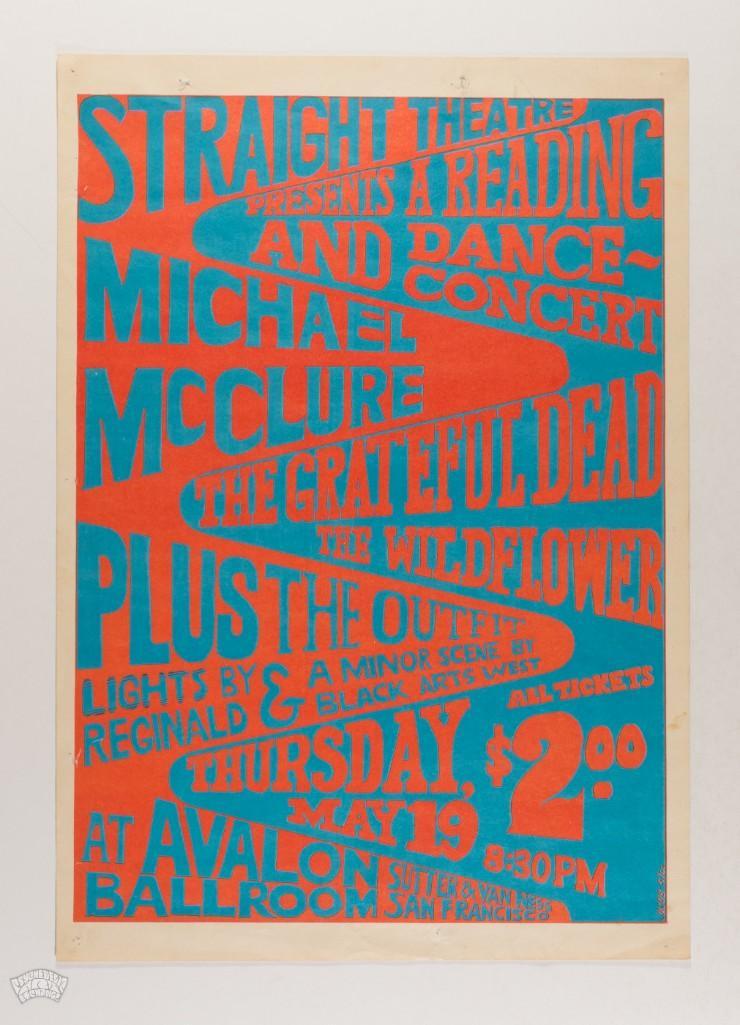 Vintage Grateful Dead at its finest! The poster for this early Avalon Ballroom show was presented by the Straight Theater as a benefit concert called A Reading and Dance Concert, along with The Wildflower, Michael McClure and the Outfit.
This was the FIRST TIME the Grateful Dead performed at the Avalon Ballroom. The time-line puts this concert in between FD-8 and FD-9 in the numbered series. The FD-10 poster is the first Family Dog advertisement for the band at this historic venue but THIS POSTER is the Dead's first Avalon SHOW!
1986 Rick Griffin Grateful Dead Signed Limited-Edition Poster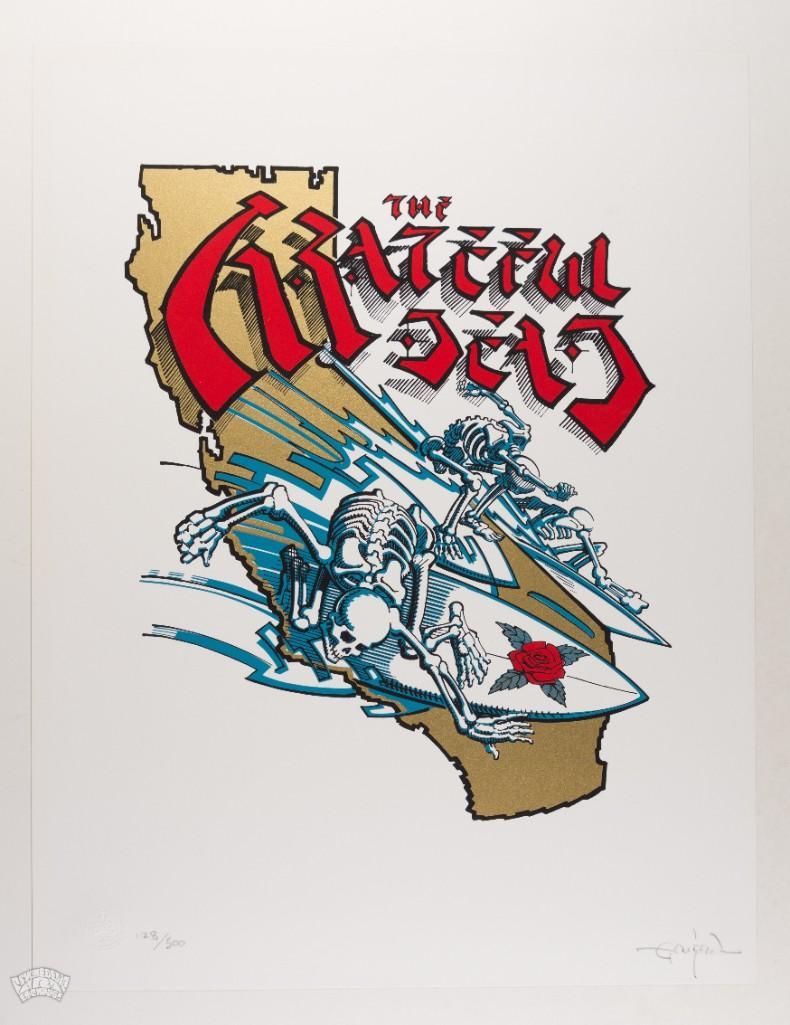 This limited-edition serigraph was designed by the late Rick Griffin and printed by Stanley Mouse's Running Mouse Serigraphy! This design featuring the Grateful Dead name and a skeleton surfing over the state of California, was produced in a limited run for the Psychedelic Solution Gallery in New York in 1986. This is the first time we've offered one in our auction, and it is in MINT condition! It is numbered 128/500, embossed, and signed by Rick Griffin!
1995 Grateful Dead Fall Tour Uncut Proof Poster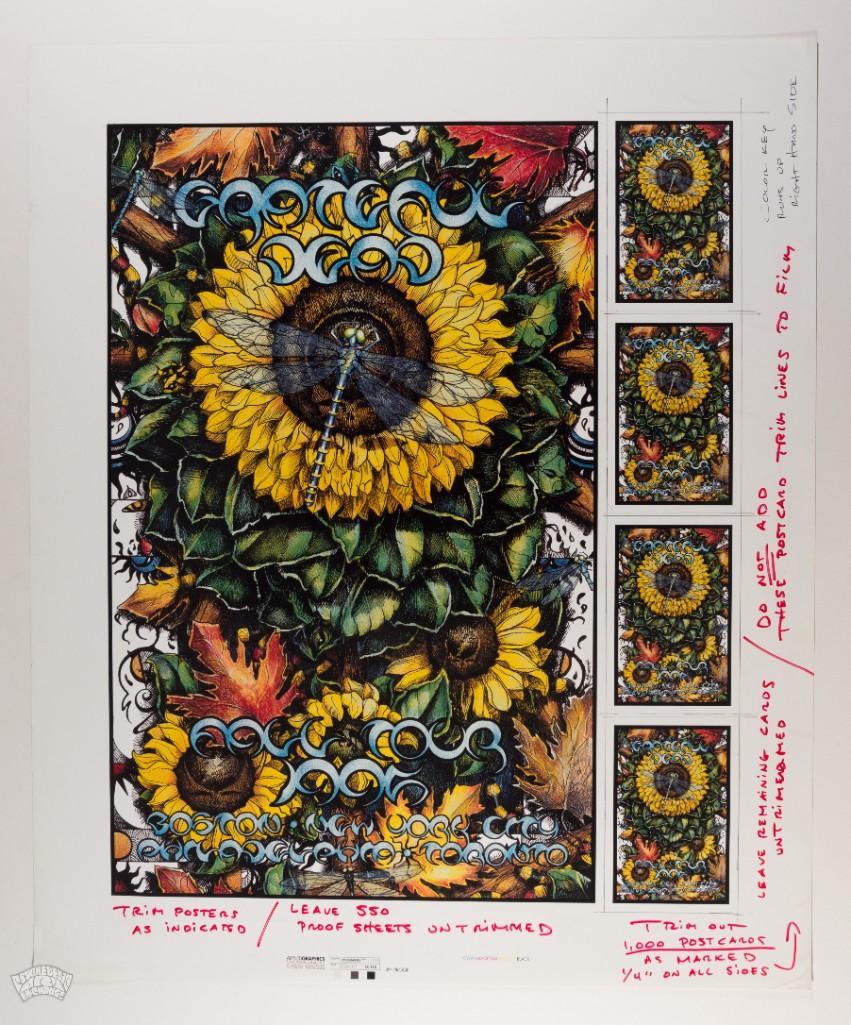 This beautiful psychedelic style uncut poster proof was designed by artist Michael Everett. It was created for the Grateful Dead's Fall 1995 tour, which ultimately did not occur due to Jerry Garcia's death in August of that year.
1978 Jerry Garcia Band Sebastopol Vets Auditorium Poster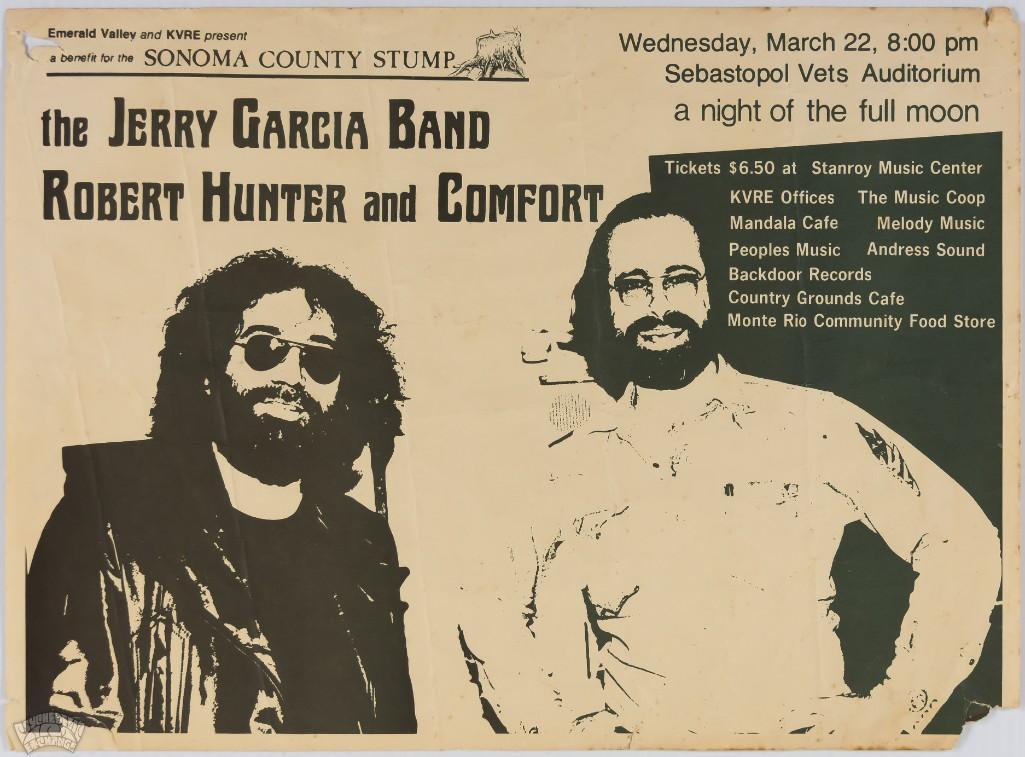 This small poster advertised the Jerry Garcia band along with Robert Hunter and Comfort at the Sebastopol Veterans Auditorium on March 22 1978. This is the first time this item is appearing in our auction! The show has been officially released as GarciaLive Volume Four: Jerry Garcia Band March 22nd 1978 Veterans Hall.
1973 Jerry Garcia Hells Angels Legal Aid Benefit Poster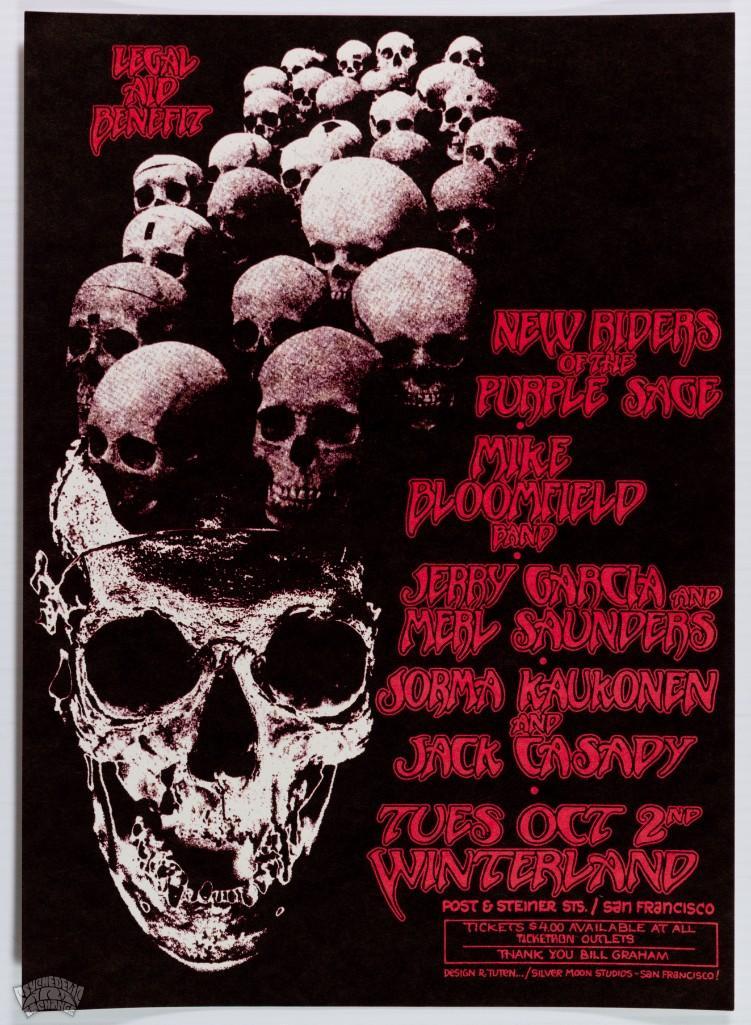 Jerry Garcia and Merl Saunders, the New Riders, Mike Bloomfield, Jorma, and Jack are featured on this lineup at Winterland Arena. This small 10 x 14 original poster exhibits the event billed as a legal aid benefit, but it was really the Hells Angels party for 1973. Allegedly at the time, Sonny Barger & The Hells Angels were in trouble, so it was decided by Bill Graham and the Hells Angels that changing the bill was for the best. A popular issue designed by artist Randy Tuten.
Our August Mega Auction will end on Sunday, August 14th. Lots will begin to close at 9:00 pm eastern time. Click here to enter!