Our Spring Mega Sale marks PAE's 155th auction! While we certainly think that all 249 items are worthy of your attention, there are a few standout pieces that we want to highlight. With just a few days of bidding left, make sure to take a look at these amazing historic items!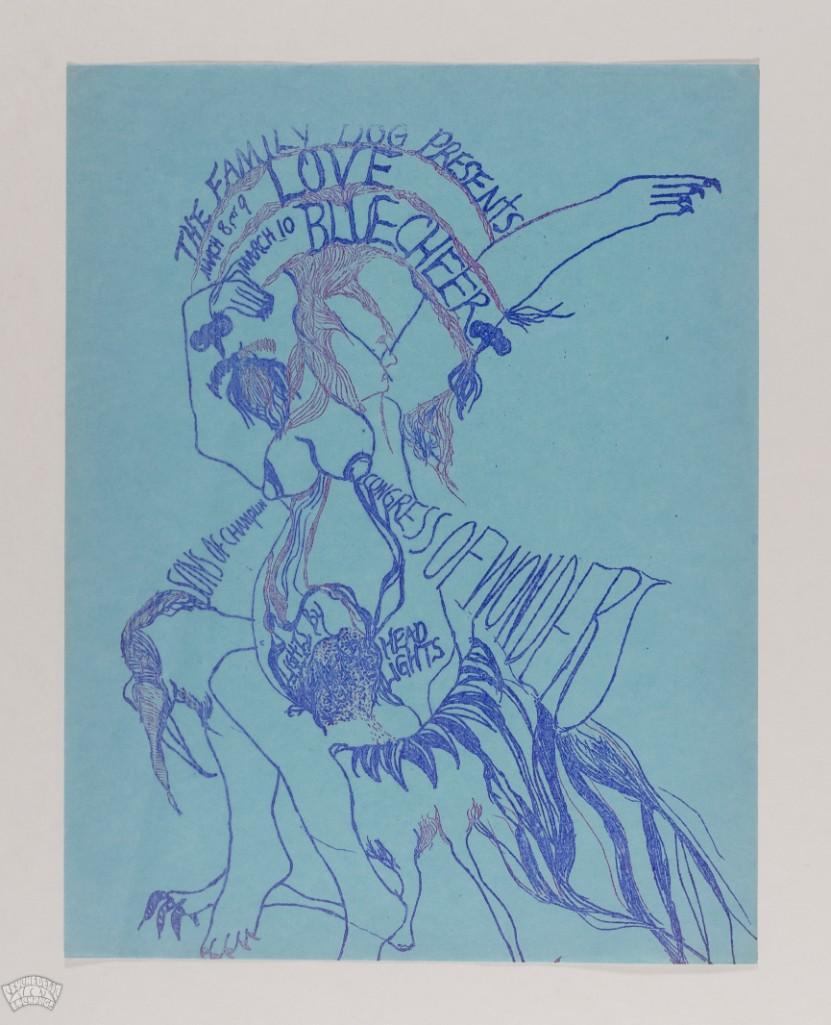 Our auction has unearthed a TRULY RARE original Family Dog flyer. It was a last-minute promotional item made on the fly for the FD-109 event. It is one of the RAREST Family Dog items that we've ever handled! This flyer and several other designs were quickly created on a mimeograph machine because of a production delay for the 109 cards. According to reports, the FD-109 card did not go out to the mailing list so this flier and the others were used for last-minute promotion. They were not mailed out but were posted and distributed to select drop-off points.
This find was unearthed from a larger lot that was sold in the Heritage Auctions August 2020 Entertainment Auction. This one was extracted from a larger grouping of the 109 alt flyers. The Heritage listing stated that the promotional item came from Family Dog Co. founder Bob Cohen's collection.
The piece is so scarce that until this auction, the flyer had eluded the detailed research of poster historian and cataloger, Eric King. Eric immediately picked up on our listing, having never seen a copy, and has since added the piece to his guide. The flyer now bears the cataloging # FD-680308K.
The piece is being offered raw, but after the hammer comes down it will be eligible for CGC grading as it will now have a catalog number. We have graded the piece conservatively as a PAE Near Mint "89" with only light handling. There is only one other confirmed surviving copy! An amazing trophy for the savvy speculator or Family Dog completist!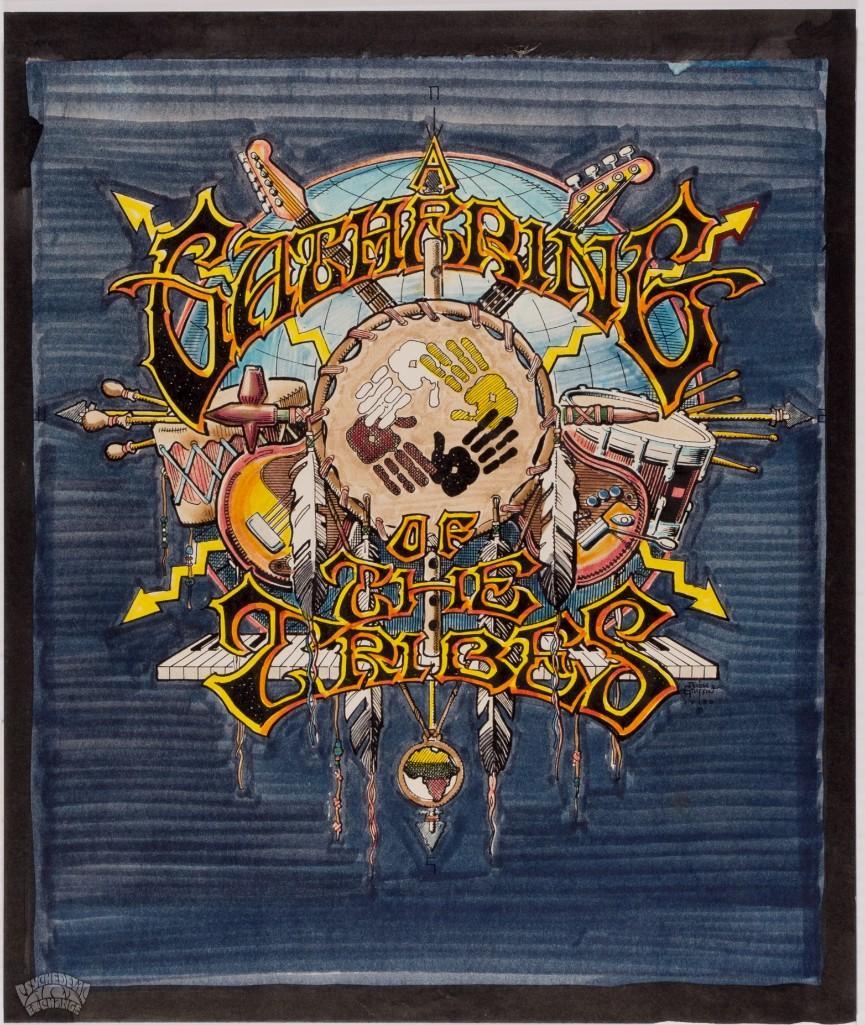 Also, not to be overlooked in this sale are two pieces of Original Rick Griffin Art. We have been fortunate enough to offer several amazing pieces of Griffin art in our auction over the years. These pieces definitely deserve a second look. High-quality finished pieces of Griffin art are becoming much scarcer in recent years.With the recent explosion in auction values of graded posters, it will not be long before the wave of new collectors starts searching out this one-of-a-kind art. If the values of original comic art are any indication, the best poster-related art is bound to become a really big deal.
This piece is a complete gem, a commission for a 1990 BGP event that Is fully finished and signed. Just a beautiful legacy to the "Gathering of the Tribes" The coloring and penwork are delightful. If you're a fan of the artist, you need this addition to your collection. A sketch of the design is also included in the lot!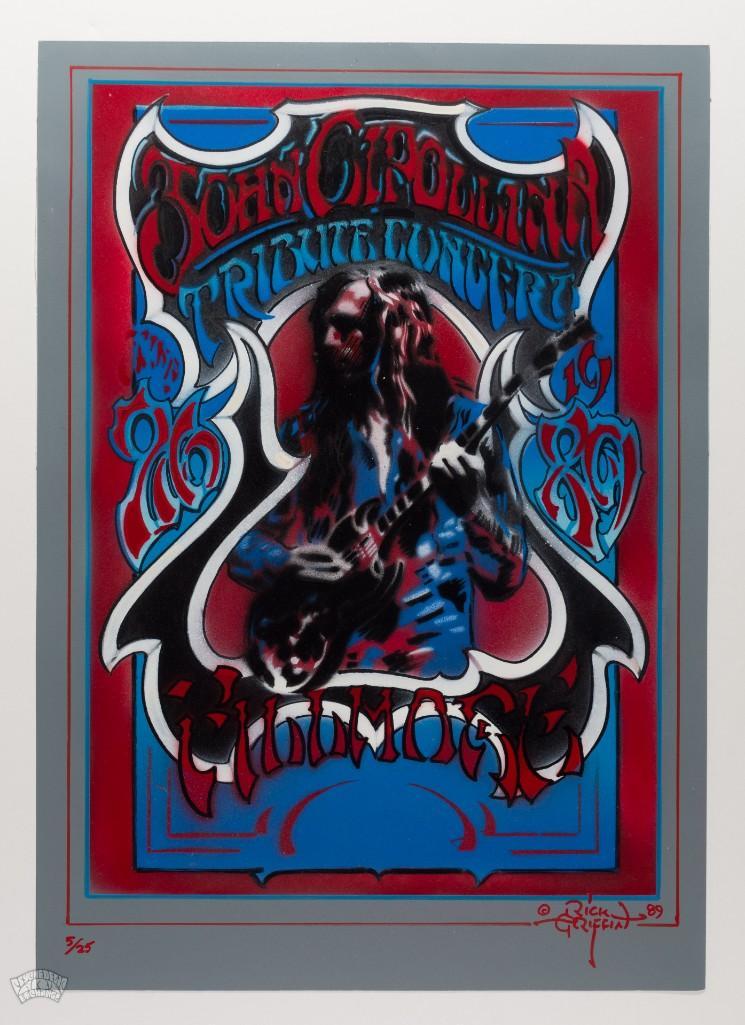 This John Cipollina painting is really hot, we've sold several of the black and white posters but this piece is in a whole other universe. You really need to see the painting to truly appreciate its beauty. The paint is glistening like a Candy Apple Red Mustang on a sunny day
Don't forget to bid in our Spring Mega Sale! Lots begin to close on Thursday, May 5th at 9:00 pm eastern time. Click here to enter!